Splatterhouse (2010)
.
Description
Edit
"The portal leads to a place that would of once seemed familiar, now alien and dead. Jennifer will die soon, an offering to older gods. The moon covers the face over the sun, The first lock is starting to opem; the Corrupted are coming."
Transcript
Edit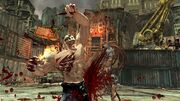 Playthrough
Edit
Ad blocker interference detected!
Wikia is a free-to-use site that makes money from advertising. We have a modified experience for viewers using ad blockers

Wikia is not accessible if you've made further modifications. Remove the custom ad blocker rule(s) and the page will load as expected.