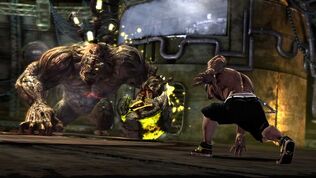 The sixth phase in
Splatterhouse (2010).
Description
Edit
"Rick begins to lose himself to the pleasures of blood and spit, and that little voice in his head knows it is winning. A monster haunts West Mansion. In West's laboratory an ambush is sprung, and a trapdoor is opened, Rick falls."
Ad blocker interference detected!
Wikia is a free-to-use site that makes money from advertising. We have a modified experience for viewers using ad blockers

Wikia is not accessible if you've made further modifications. Remove the custom ad blocker rule(s) and the page will load as expected.