While it is not confirmed, it is believed that one ability that
Rick
could of used is "dual-wielding", where he holds two weapons at the same time. No actual gameplay of this has been shown by any Bottle Rocket era trailers, but there is concept art of it.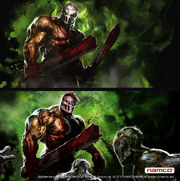 If this dual-wielding ability existed in the production of
Splatterhouse (2010)
, it was cut out of the final version on the game.
Ad blocker interference detected!
Wikia is a free-to-use site that makes money from advertising. We have a modified experience for viewers using ad blockers

Wikia is not accessible if you've made further modifications. Remove the custom ad blocker rule(s) and the page will load as expected.