"Oh yeah! A twist-top!" -Terror Mask
A humanoid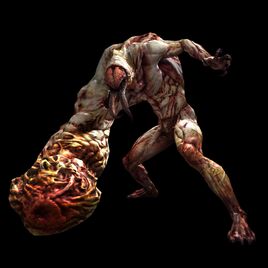 with a massive right arm. Not only are they one of the strongest of the creatures, but they are also the slowest. One of their main methods of attacking is to hit
Rick
with their massive arm. They can also stun Rick for a short period of time.
Demon Abhore: A black Abhore with red glowing studes on their larger arm.

The head seems to be the only soft part on their body, and when Rick Splatter Kills one of them, he rips it out.
Orginally, during Bottle Rocket era production, the Abhore was going to have some sort of scythe-like weapon. This was cut out of the finished game.
Ad blocker interference detected!
Wikia is a free-to-use site that makes money from advertising. We have a modified experience for viewers using ad blockers

Wikia is not accessible if you've made further modifications. Remove the custom ad blocker rule(s) and the page will load as expected.